In Europe
Europe - 36 Days, 6250km
The PLAN was simple. Buy a Ferrari and drive around Europe. An idea hatched late in 2009 quickly turned into a search of the web to find a suitable car over Christmas-New Year to use during the NZ winter in Europe. After searching widely the perfect car was located, a 2002 575M, 6 speed manual only to find it sold the day before I made contact. And again on another 2002 car. Finally I located a 2003 F1, full history car, in Lavenham, Essex. After much going back and forward the car was paid for and stored in February for collection. A Rosso Corsa 2003 F1 575M, Fiorano suspension pack and only 24000 miles, black leather and red stitching. Wow, we were underway! 5 months to plan the trip. Key ideas are Goodwood, car museums, business, catching up with friends and acquaintances – all over Europe.
June arrives and we set off on Air NZ via Shanghai. Highlight is a night club for all the beautiful people (BP) called M1NT, a sleek black number 24 floors up overlooking the Bund. Sarah, the Marketing Manager at Ferrari in Sydney had recommended this as a popular Ferrari haunt – used for the 458 launch. We had a super window table and about 25 wait staff. Arriving early has its advantages as we were first there having forgotten that all the BP don't actually go out until about 10.00pm. By then we had finished our dinner and were thinking of bed. The joy of ageing! For Steph the most memorable part was the window fronted loos allowing you to gaze down from your 24 floors while abluting. Hopefully the outside was mirrored. We will never know!
Arrive at Heathrow first thing Monday morning, to be greeted by my old school friend, Andrew, zip off to his place for a much needed shower and freshen up. All this on the hottest UK day this year – a fine sunny 29+. We quickly re-packed to reduce from our large suitcases into smaller bags as we were uncertain how much we could fit in the boot of the Ferrari. Steph has a 90 litre bag, make up bag, and I have a 60 litre bag & computer case! The boot is 180litres so we figured we would fit. Into the Alfa and off to Colchester to collect the car from Lancaster Ferrari and see MX53TJO for the first time. Lancaster's had polished the car and it looked stunning! Red, long, low, and the beautiful black leather with red piping…all gleaming in the sun. Open the door, hop in, and OUCH! I now know why Ferrari owners prefer Crema leather – there is 20 degree difference on a hot day at least. No time for wistfulness though. Settle the bill for servicing and checking it all over, 1200 quid, pack in the luggage with a little room to spare, quick instructions on how to drive with flappy paddles, turn the ignition, hear those new Quicksilver exhausts, on with the seat belts, pull back the right paddle for 1st, gently prod the accelerator and gingerly head out on the road for the first time. We idled through Colchester and headed over the motorway towards our lunch meeting with Johnny. Round the roundabout, along the access ramp, and then, our first sight of open road. Give the accelerator a massive prod, pull back the right flap. Holy s…! this thing is fast. 2nd gear and 80mph (130kmh) in a few seconds. Everything happens very, very quickly. Steph wisely suggests slowing down a bit as the speed limit is 60mph and we were doing 80. Grin mode takes over. That sense of euphoria and adrenalin all mixing. The January dream becomes the June reality. The 575 is so svelte– from the long flowing, curvy bonnet to the views in the wing mirrors of subtle flanks. This is going to be fun indeed!
We joined Johnny after a couple of wrong turns (no sat nav plugged in yet) and settle to lunch, in blazing sunshine, at a really charming, quintessential English restaurant – the Tolbooth. Beautiful setting beside a tranquil river with swans meandering along, not a house or road in sight – right in the heart of Constable country. Johnny is an interesting fellow I met in NZ this year on the side of the road during the Ferrari Owners Club AGM lunch at Highfield in Blenheim. He and his wife Corinne own a vineyard in Blenheim and he is a wine importer in the UK specialising in fine wines and NZ wines as part of a family business dating back to the 1800's. His French wife's family are boutique champagne producers in Troyes, France. A leisurely 2 hour lunch washed down with a Pouilly Fume is a great start to soaking up the ambience of the English countryside – Idyllic! The rest of the world seemed a long way away.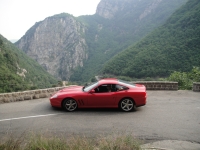 Ferrari 575M on the Col de Turini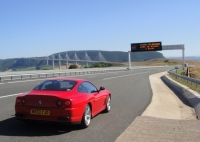 Approaching the famed Millau Bridge in France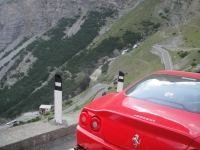 Travelling down the SE side of the Passo de Stelvio towards Bormio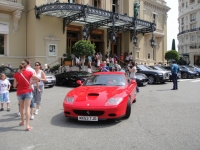 Nice line up out side the Casino at Monte Carlo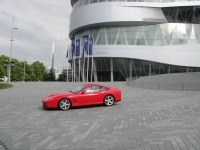 Open parking space outside the Mercedes Museum in Stuttgart
Off to Lavenham, a medieval (wonky) town not far from Colchester. We are staying with Jonathan, from whom we purchased the car, & Susie at their guest house. After 10 wrong turnings and Steph getting crabby I hooked out the sat nav and instant saviour! Off in the right direction now. Little country lanes and roads in a wide Ferrari are very interesting indeed. Jonathan and I sort out the insurance and fortunately he keeps the car in his name otherwise insurance for a non resident is incredibly awkward. Jonathan was a one time F3 driver and raced against Kiwi Mike Thackwell.
Depart the next day for London (after breakfast on black pudding and poached eggs) navigating the small roads and speed camera littered motorways. Turns out there are far fewer actual cameras than there are boxes and signs. Tammy the Tom Tom warns us as each one approaches. Clever!
Brave rush hour in London, quick U turn outside Harvey Nick's in Mayfair as we missed our hotel, footman greets us and valet's take the car to be parked under the hotel. It was in good company sharing the garage with a red 599 and yellow Gallardo. Staff clean and polish the car as well. Catch up with our friends who specialise in collectible cars – he had just purchased Schumacher's 2000 Canadian GP winning Ferrari and had recently sold a 275 GTS and Reggazoni's 312. Quick visit to Maranello Sales Service Department where they offer to groom the car on our return to the UK, pick up and confirm service records on the 575M, drool over 2 Enzo's, 2 F40's, Daytona, 288 GTO done 1500 miles from new. Next stop Hampshire and preparations for Goodwood Festival of Speed. We go with friends who have raced the hairiest racing Testarossa and still own numerous Ferraris, 348, 360 Challenge cars. Goodwood is truly a spectacle – a visual and aural smorgasbord. Hard to believe I could touch the ex James Coburn 250GT that Chris Evans purchased for US$9,000,000. Other highlights were the Bruce McLaren cars, 599GTO (Steph fell in love!), new McLaren sports car (disappointing), Chris Amon's 312 and a champagne picnic. Put Goodwood FOS on the "bucket list".
Take the overnight ferry to St Malo, France from Portsmouth, and over the next few days head to Amboise via famous names like Le Mans, Clermont Ferrand, and then southwards via the famed Millau Bridge. Stunningly beautiful and graceful – a modern work of art. Made the mistake of staying in Lodeve where the streets and bridges are narrower than the car so it ends up being parked outside the local Gendarmerie all night. Plunge further south then west to Roquebrune, take in St Tropez and Monaco. Photos outside the Casino in Monte Carlo where the line up includes black Murcielago, Porsches, Maseratis, Veyron (casually dropped over the pedestrian crossing), 599, Rolls Royce Ghost … and us. We are immediately offered valet parking outside the casino. This is a trend in many places. Ferrari is special! The car is photographed everywhere.
Late afternoon we take off for the Col de Turini, north from Menton. Had to put in some 95 as didn't realise how far away it was and how much gas we would consume on the mountain roads. The Col is inspiring – tight turns, steep rock faces, narrow roads. With windows down the reverberation from the Quicksilvers is even better as we climb. At the top we turn and return. Going down is just as good as going up – the wine tasted better than ever that evening.
600km west and south is Bracciano, Italy, where we are headed to stay with Steph's sister and family. We depart early (for us) at 11 and despatch the first 140km in an hour. Tunnels and viaducts flash past from Monaco to Genova. We had forgotten that most of Italy were going on holiday that weekend too. At Genova 10km takes 1 hour. OMG! Temperatures are in the mid 30s. We make it in time for drinks.
A few days in the sun and heat look relaxing. The pool is essential. Here, one of the absolute highlights of the trip occurs while I am taking Steph's sister for a drive through the old village of Trevignano Romano. An elegantly dressed, older Italian man, standing at the bottom of his drive, hears us approaching and turns to look, then as we drive past he gently, gracefully and slowly bows while watching us continue our journey. We are speechless. This is Italy. They adore and revere Ferrari. I wished I could have captured that moment on film as it will be with me forever – that one moment!
North to Florence and a costly visit to NOI, Steph's special leather store. Sam, Nino and Francesca work their magic while plying me with Pinot Grigio. There was no parking at the hotel until I mentioned it was a Ferrari. The van at the front door was immediately moved and the 575 stayed there.
The brakes hard started to feel spongy with increasing travel. Check the brake fluid – levels are down. No worries, we are off to Maranello. I take the precaution of compiling a list of Ferrari service centres up north. There are none in Maranello.
On leaving Florence, in heavy traffic, the brake warning light comes on almost immediately and the travel increased. I give it a few pumps and it strengthened so I planned to check the fluid levels in Maranello. Arriving at the Ferrari Galleria the pedal travel was significantly greater with minimal braking – virtually to the floor. The car was left at the Galleria and we set off on our factory tour. This was amazing with the opportunity to see the production lines for V8's – 458, California, the engine plant, the F1 Engine plant (you could eat off the floor everything was so clean), the cars fresh from the British GP of Massa and Alonso, albeit fully stripped down, the FI Clienti Collection of individual owners cars dating back to about 1996 that are maintained by Ferrari (100,000 euro a year). Apparently every time the owners drive them they crash as they cannot drive an F1 car! The FXX cars, 599 & Enzo, the GTO that set the new lap record at the Nurburgring and so on…including the Galleria that has a great array and changing collection.
The highlight was watching a F1 3 seater (!!) that Ferrari built for client and sponsor days. The 2 passengers sit in the air scoop pods flanking the driver and were racing around Fiorano at up to 350kmh!! THAT looked and sounded like something we should all do. All the people on the factory tour "drooled".
We arrived back at the car, not overly confident and weary from a 4 hour tour. Truly great value! Hopped into the car, fired the engine, pushed the brake pedal and it fell to the floor. Not a good start! 6.30pm on a Friday. Set off to the nearest Agip, get their only bottle of brake fluid and filled up the brake reservoir. No Better! Ikes! Head to our hotel – a Locanda on the outskirts of Maranello where they assist by making phone calls at 7.30pm. There is only a Carozzeria – panel (bodywork) shop and they suggested that there was a mechanic in the back of their shop that I could get to take a look at it on Saturday morning. Silvano would be there at 7.30am until 12. Filled with trepidation, despite the superb dinner the night before (unfortunately not at Montana as we didn't want to risk driving) and I set off at first light with great trepidation. Saturday, Italy, a Ferrari, a guy in a shed at the back of the panel shop. Get the picture!
Found the shop, coincidentally next to the Agip stazzione I had stopped at the night before. A non-descript commercial building with Carozzeria Zanasi above it. There were some Ferrari signs as well – looks more promising. I go in the front and meet a guy who speaks no Anglaise. Looks vague when I ask for Silvano. Motions me to follow him. Walk through the paint and panel shop. Hmm – 3 x 458's and a few other late model cars. Looks better. Get to the back. A workshop. A guy called Silvano. He's expecting me. Shock! Look around his shop. Ferrari posters, logo's, parts (lots of parts!), a 458 in bits along with a 612, California (metal body anyway), California on hoist, a thrashed 575M. Things are looking up. Explain my problem. Bring car round. Silvano says he will have a look. He does – thoroughly. Finally puts it on hoist and after much peering points out that looks like the ABS control unit with corroded connections etc is stuffed! Tells me a common problem on Maserati 3200GT. He has seen it a lot. Great news. Sort of. Then miracles – Silvano says "I can probably fix – 3 hours – you come back at 11.00". I daren't mention money. He lends me an Opel diesel. Not before showing me the 15000 mile he drove in for a section around China in a 612. His photo in the Ferrari posters. I am feeling a lot more confident. Silvano mentions that he does a lot of development work and rectification for Ferrari – hence the 458 in bits! I think I'll postpone my 458 order. Also says a California is a "Woman's Ferrari".
Feeling a lot better I pick up Steph, leave charming family Locanda Hotel, go to Maranello, enjoy a strong expresso, find a fabulous model and Ferrari "stuff" shop. Same family since 1976! Buy some "stuff". Get back to Silvano. Car on hoist, no wheels. This looks bad. Fortunately not, just bleeding all the brakes and to cut a long story short – all fixed – brakes great again, roar up and down Maranello roads to test thoroughly. Car is back to old self and now feeling better. Wallet emptier by 1800 euro! Ouch! But he only charged 300 e labour for 2 of them and they worked like Trojans! Steph and I are impressed. Mr Zanasi arrives. Looks 52 but is 72. Offers to touch up paint while I am in the area. Wish we had time. Turns out he knew Enzo well, they have a long and distinguished association with Ferrari, we cannot believe our good fortune. But that is what La Passione for Ferrari is all about. People go out of their way. I give Silvano a hug!
We missed Montana Restaurant – Mama Rosa's pasta – that will have to keep although I can still taste from 2005. North towards Milano and a 612 blasts past at 200kmh – after the brakes I am a little circumspect. Driving into Milan to visit the Galleria and Duomo we struggle to find parking until the doorman at the Park Hyatt says "Just park here at our door". That is the power of a Ferrari in Italy. Further north to Como, admire George Clooney's home, Bellagio and try and work out where the Bond movie was filmed. Later east to Bergamo where the old town is delightful – great stop off point between Maranello and Venezia. Couple of days in Venice, mandatory gondola ride, privileged parking – again! Then northwards towards Bormio and the Stelvio Pass. We decide to go cross country through Treviso to Trento and appreciate the rural roads. Bad idea – they are only 2 lanes and you frequently get jammed behind trucks, tractors and average about 40-60kmh. We see why people use the Autostrada.
Our plan was to reach Merano by 6'ish and drive the Stelvio around 6.30pm. That way there is far less traffic. We make it on time and at Merano there is the first sign and arrow "passo de stelvio" – blood pressure rises. We have around 90km to cover. It is not long before we reach the start and all the YouTube videos come alive. Passo de Stelvio is every driver's dream. Words do not do it justice. Hairpins, straights, reverberating noise, a near vertical climb up the side of a mountain to around 4600m, views to die for (figuratively speaking), narrow roads – we just love it! Taking time out for photos, avoiding cows, talking to the odd crazy cyclist who puffs "want to swap?" as they pedal up the mountain! We drive up from the northeast. The southwest side going down to Bormio is equally as spectacular as the other side. Car, brakes, gears are all tested. Spectacular says it all. The worst part – it was all over too quickly! Overnight in Bormio, back up the pass, through Switzerland on a very narrow steep country road – lots of cows and cowbells, the odd Porsche, the next day and on to Austria. The rain had set in – lucky we had driven the best of "passo de stelvio" yesterday. Typical Ferrari – some water drips on me as it just hoses down. Arrive in Kirchberg in Tirol late and head off to dinner with a fellow enthusiast who I had met at the Montana Restaurant in 2005.
Erich has the classic Ferrari enthusiasts garage – models, photos, cars, including a mint 360 Spyder with Remus exhaust and 3000km, a fine Jaguar XK120 with 4000 miles from new (he had just sold his 458 to a Japanese collector) and a colourful history of racing 348, 360 Challenge cars, owning Nigel Mansell's 640 F1 car, 2 F40's (one was stolen in Maranello never to be seen again), F50. We have a great weekend and drink too much wine, Schnapps and eat too much Austrian food. Drink driving rules are completely ignored there.
On to Munich and our first look at "Unrestricted" on an Autobahn. Sunday traffic doesn't help. All VW Golf's travel at 180. We shun the BMW Museum, pass on to Stuttgart, manage 260kmh on the unrestricted but too much traffic and a wet road prevent 300, and dine with friends. Ralf runs the largest supplier of automotive assembly lines and paint application systems. Ferrari is their customer along with 80% of the car builders. All their growth is in China! Ralf tells me that driving a Ferrari in Germany is too showy and your business is making too much money. If you drive a Porsche that is perfectly acceptable. Perception! We take in the Mercedes Museum and a 1 hour plan turns into 4-5 hours. This is a great social commentary on the automobile, its place in history and the industrialisation of Germany. The cars are pretty good too. Mercedes have a service centre right beside the Museum. We park there and take photos right outside the Museum as well. Running late we plunge south to Mulhouse, home of the Schlumpf Collection. We have no accommodation plans. Bad idea! Turns out Mulhouse is a dreary, decaying former home to the textile industry and not a pleasant place to stay. We end up at the Chateau d'Isenbourg and this is delightful. The Schlumpf Collection is revealing – about 1 man's dream to create the world's best Bugatti collection. Without writing about it in detail, the cars range from the very old to the very new, road, racing, rally, even pedal cars for kids, there is something for everyone. Bugatti's that are unbelievable and a smart collection of Ferraris including a very nice 250LM, various racing and road cars. This is an historic journey through the automotive ages, from excesses to the practical. Add this to the "bucket list".
This was our last car museum (to Steph's relief) so we headed west, visited Champagne country, called on Johnny's wife's family at their boutique champagne house, learnt how champagne was made, drove through the French countryside with no traffic and that was delightful, headed north via Reims, parked for an hour on the Autoroute in the only traffic jam caused by roadworks, then covered 146km in about 45 minutes behind a mad Dutchman driving a very hot Mini Cooper Clubman. He was very cheery when we met at the toll plaza hoping we were going on to the Hague. We weren't! These French Autoroutes from Dijon – Troyes – Reims - to just out of Douai were the best surfaces we travelled on and not too much traffic. The tolls were worth it!
A break in Lille then back to the UK on the ferry with a Belgian 360 beside us. We stay and dine with friends – joined by kiwi expat F1 motor mechanic turned specialist classic race car manager Kerry Adams from Palmerston North and his partner, savoured delicious food including a lamb rack – first lamb in weeks – YUM!!!! Kerry worked for Frank Williams for many years and now looks after a stable of very collectible racing Porsches and Count Rossi's collection, including his Bizzarini that he bent at Classic Le Mans. Kerry had just finished restoring his 308GT4 – after 11 years.
36 days, 6250km. We deliver the 575 to Maranello Sales Service centre, arrange transport to the shippers and say fond farewells. Some observations – NZ and Australia have a terrible attitude to "fast" driving. European speed limits are comfortable at 130, often allowing travel at up to 150. When there are roadworks there are still 2 lanes each way moving at 80. Trucks keep to one lane. In Germany accident rates have gone down by 80%. English drivers are appalling. Audi drivers are without doubt the new aggressors - everywhere.
Our experience has been truly amazing characterised by the people we spent time with, the Ferrari or downunder connection with many, the places we have seen and roads we have driven, the help, hospitality and kindness we have received, the places we have stayed and mostly the reverence and enthusiasm for Ferrari wherever we have gone – she must be on YouTube or Facebook all over the place judging by the photographs. All over Europe they love, adore, revere and respect Ferrari – we are humbled and privileged! La Passione! All except for the guy in the gas station near Milano – he saw the NZ sticker in the back window and wanted to talk about his hero – Jo Rokocoko!